Glowing praise as Ofsted maintains SNA is 'Good' school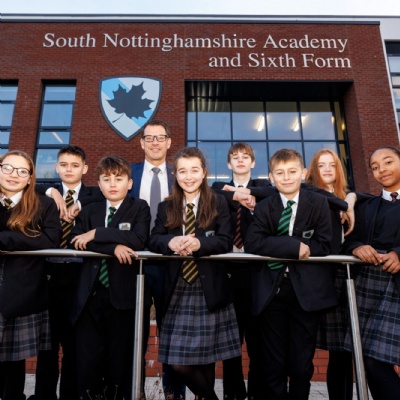 School inspectors have maintained that South Nottinghamshire Academy is a 'Good' school, giving glowing feedback following a recent visit.
Ofsted spent two days at the Radcliffe-on-Trent school in March this year, where they visited lessons, looked at students' work and spoke to a wide range of stakeholders including students, parents, teachers, leaders and governors.
Returning their Section 8 report, the inspection team noted that leaders and governors continue to work effectively, in partnership with Redhill Academy Trust, to improve the school further.
They said that leaders were focused on 'ensuring that pupils achieve highly in subjects they choose to study in key stages 4 and 5.'
Inspectors also recognised how staff and students embody 'The SNA Way', a set of core values that underpins the South Nottinghamshire Academy community. One student summed this up when talking to inspectors by saying that they were 'taught to be respectful, put ourselves out there, try new things and be kind to others'.
The latest report offers many constructive comments, including recognition of a 'very inclusive', safe and happy school environment where staff and students enjoy positive relationships and there are high expectations of pupils' conduct.
Inspectors said pupils 'study a broad curriculum and experience a good quality of education', with many benefiting from a wide range of leadership and volunteering opportunities.
They also praised the maturity and focus observed of students in the Sixth Form, who act as role models for younger pupils.
Headteacher, Mr Dan Philpotts, celebrated the inspection report saying: "The South Nottinghamshire Academy community is something quite special and we are very proud of our amazing students and staff."
"We will continue to ensure that when our students leave us, they do so as well-rounded young people who have achieved the best possible qualifications having experienced an extensive range of wider development opportunities."
"As always, we will use Ofsted's feedback to help frame what we do over forthcoming years on our journey of continuous improvement."
Listed below are further comments made by inspectors following the recent Ofsted inspection:
School leaders receive effective support from Redhill Academy Trust.
Many teachers benefit from the ongoing training that they can access in the Trust.
Pupils agree that the school is very inclusive and that teachers do not tolerate any form of bullying or discriminatory language.
Pupils demonstrate commitment to their learning. There is very little low-level disruption in lessons. When there is poor behaviour, teachers deal with it quickly. The corridors are calm and orderly.
Teachers support pupils with special educational needs and/or disabilities (SEND) extremely well.
Many Sixth Form students undertake extended projects and volunteering opportunities.
Pupils in key stages 3 and 4 also enjoy wider development opportunities.
The latest Ofsted Section 8 inspection took place on 23rd and 24th March 2022. Section 8 inspections are conducted at schools with existing 'Good' or 'Outstanding' ratings, to confirm that the rating still stands.
Ofsted previously visited South Nottinghamshire Academy in February 2017 when inspectors confirmed that the school remained at least 'Good' in all areas of inspection.
About South Nottinghamshire Academy
South Nottinghamshire Academy is a vibrant and thriving comprehensive school at the heart of the communities of Radcliffe on Trent, Cotgrave and Shelford.
The school's ethos is built around a commitment to 'Pushing our boundaries to achieve more'.
The school has approximately 756 students on roll aged 11 - 18, including the Sixth Form.
In 2016 the school joined Redhill Academy Trust.
In September 2016, students and staff moved into a brand new £10 million school building.
In November 2018 a £1.2 million sports hall was completed.
Work began in spring 2022 on a £2.5 million extension to the school site, due for completion this winter.
The recent capital projects have introduced modern facilities to enhance the educational experiences of current and future generations of students. The latest extension will enable the school to continue to accommodate students from the local catchment.