Generous donations mount up for community food banks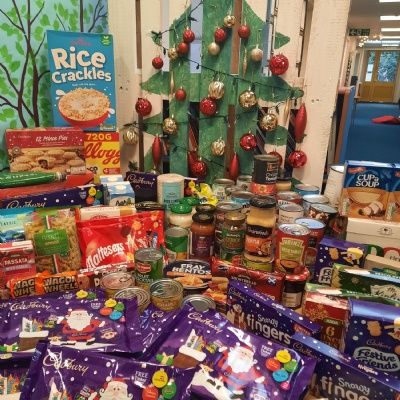 Students, staff and their families have donated tonnes of festive treats, essential supplies and gifts to support local people in need this Christmas.
Supplies were collected from across the 15 academies within Redhill Academy Trust as part of our annual Festive Food Bank Collection.
Each school liaised with their local food bank or community donation point to deliver the piles of produce which will be re-distributed as Christmas food parcels.
We are incredibly proud of the generosity shown by our academies as they come together to think of others and have donated, once again, in huge volumes. Thanks must also go to everyone who helped with the co-ordination of such a large scale operation.
Wishing everyone across the Trust and our wider communities a restful and happy Christmas.
See photos from various food bank collections below:
The Carlton Junior Academy
Supporting St Paul's Church, Carlton
The Carlton Infant Academy
Supporting St Paul's Church, Carlton
Robert Mellors Primary Academy
Supporting Arnold Food Bank
Hall Park Academy
Supporting Broxtowe Community Projects
Colonel Frank Seely Academy
Supporting Arnold Food Bank
Tupton Hall School
Supporting Clay Cross Food Bank
The Carlton Academy
Supporting Hope Nottingham Carlton Food Bank
The Bolsover School
Supporting Freedom Food Bank
The Oakwood Academy
Supporting Bestwood & Bulwell Food Bank
South Nottinghamshire Academy
Supporting Framework HA, Nottingham Central Women's Aid, Clifton NG11 Food Bank