A Level celebrations across our schools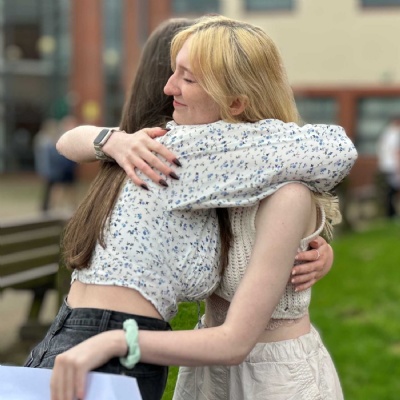 Redhill Academy Trust students have been collecting their eagerly anticipated A Level results, following their first ever formal exams.
Young people at the Trust's seven Sixth Form centres, spanning Nottinghamshire and Derbyshire, were delighted with their results and excited to take the next step in their education.
Emotions ran high as envelopes were torn open to reveal the all-important grades. This summer was the first time that this cohort of students had sat formal exams, having had their GCSEs replaced by 'Teacher Assessed Grades'.
Despite this, students' exceptional work paid off with many individuals excelling beyond expectation to achieve the grades they had hoped for - or higher!
Andrew Burns, CEO of Redhill Academy Trust, said:
Students across our sixth forms have plenty to celebrate today. Whether being accepted to top universities or securing high level apprenticeships, the important thing is that our students have been able to achieve their potential and move onto the next stage of their chosen paths.
Many will go on to study some of the most sought-after degree courses at internationally renowned universities across the UK, including Oxford and Cambridge. Degree courses range from psychology and sociology to history, maths, mechanical engineering, medicine and even astrophysics.
Others have been successful in gaining apprenticeship and employment opportunities within, for example, the civil service, the motor industry and the Armed Forces.
Three students at Tupton Hall Sixth Form are destined for life on the stage, having secured places at highly competitive performing arts institutions: Italia Conti, BIMM and LIPA.
At Redhill Sixth Form's Oakwood campus, which offers Level 3 vocational qualifications in Sport and Health & Social Care, there was 100% pass rate across both courses. To top this off, all students were accepted at their first choice of university.
We would like to congratulate all students and staff on their hard work in securing these achievements and wish the Class of 2023 the very best in their next adventures!
---
Scroll down to see images of the celebrations across our sixth form centres on A Level Results Day 2023.